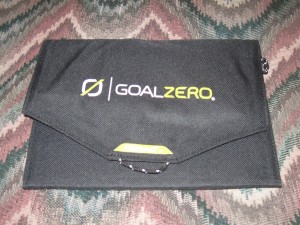 The Goal Zero Guide 10 Plus Adventure Kit comes in a great package. It has a built in indicator that tells you how much juice is left in your batteries. Charging my batteries are also quicker than when plugged into the wall.
I purchased mine from Rocky Mountain Survival and would highly recommend purchasing from them as it was shipped very quick and was a fantastic value. The beautiful thing about Tim's recommendation is the solid components of this kit.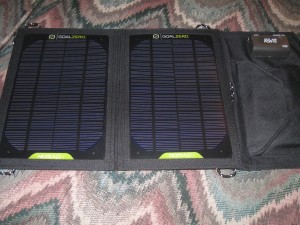 I love how this solar panel is put together. It comes folded up to the size of Kindle 3rd generation. It will fold out to provide panels that can produce up to 7 watts maximum. The ability to charge a battery pack, usb, or cigarette plug is very convenient. It is amazing how to pack that much power in a small form factor.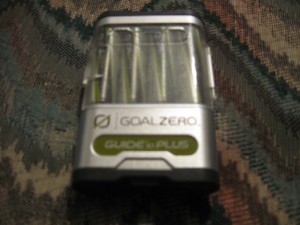 I probably would have been happy with just the solar panel, but it also has the capability to store the charge into a battery pack. This allows you to harness the energy during the day time and charge your devices at night. Whether you replace batteries or plug directly into the power pack it will provide me exactly what I need. Even when it is charging depending on the color of the light and the blink rate I can tell how dead the batteries were. This is vital information when trying to power devices.
If you are looking for a portable solar kit that can be easily carried, charges batteries, usb, or 12 volt devices than this is the kit for you.